The Edgenda family acquires Loran by investing $10 Million to expand its capabilities in organizational transformation and governance of technologies
By Nathalie Gosselin
QUEBEC, September 20, 2022 – The Edgenda family brings together business transformation, governance, and capabilities development specialists under one roof. We have harnessed the power of talent and technology to accelerate the success of companies and institutions ready to transform the world. As Canada's leading learning and education company and one of the country's largest consulting firms in its field, the Edgenda family is acquiring Loran, a consulting firm specializing in strategy and information technology (IT) optimization.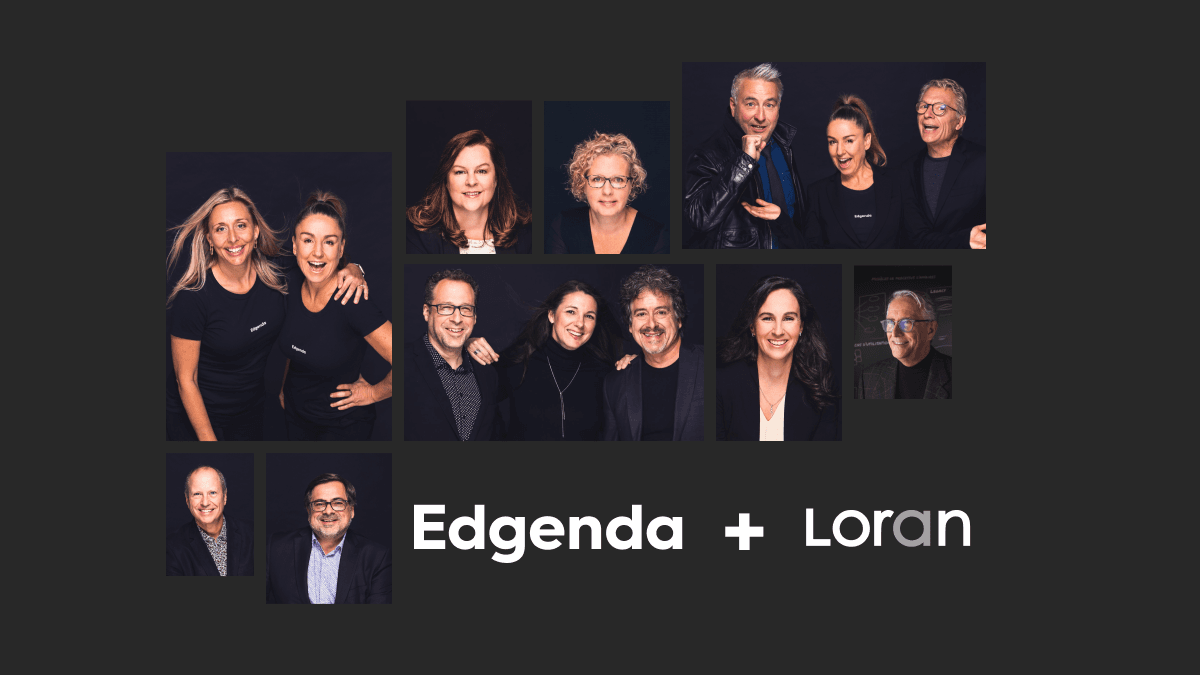 Founded in 2002 in Quebec City, Loran has extensive and specialized expertise in digital strategy, IT architecture and governance. Recognized for its passion and talent in supporting Quebec organizations successfully meet their technological challenges, Loran has a solid portfolio of achievements in the public, government and financial sectors. It assists IT and business leaders as well as their teams in making strategic decisions to achieve technological maturity in an ever-changing environment.Driven by the same desire to unite people and technology towards the success of the largest transformations and organizational changes, the acquisition of Loran strengthens Edgenda's well-established path and reinforces its positioning as a reference in consulting services.
"This transaction, based on our common culture and values, opens up new opportunities for our clients. By joining our respective strengths, we are now in a position to offer an integrated approach that is aligned with the challenges arising from the digital shift", Louis St-Hilaire, President of Loran Digital Consulting.
This acquisition is part of Edgenda's growth as it strategically increases its capacity to offer more comprehensive support for the largest business transformation projects in Canada, while strengthening its influence in Quebec. The team of experts and the tools it integrates will increase its impact by offering an ever more complete, relevant, and innovative range of products and services to help organizations succeed in today's world.
"We offer consulting services that focus on people, processes and technology. The expertise, maturity and tools that we are integrating today bring a complementarity that we had targeted in consulting services. These are levers and accelerators that we are adding to the value chain for our clients; our goal is to revolutionize the transformation paths of the organizations and teams that we support."

-Nathalie Gosselin, Chef de la direction Stratégie et services conseils
This $10 million investment from the Edgenda family is in line with its vision since 2017 to achieve yearly revenues of $83 million by the end of 2025 by creating more positive impacts and value for all its stakeholders and, ultimately, strengthen its leadership position in Canada.
"We are continually transforming our business through the talent and strengths of our people and invest heavily in the training and skills development. Our ability to be a "free cash-flow" enterprise has allowed us to make a 3rd acquisition with traditional banking facilities, backed by the Royal Bank of Canada, our loyal partner. We thus remain completely independent in our strategic orientations and in our ability to create more value through our distinctive product and service model."

-Jacques Caron , COO, CFO
The Edgenda family, including AFI and Apprentx, specializes in learning solutions, experiences and optimization and employs nearly 260 change makers, creatives, and geeks. It continues to evolve its unique model of client services, combining several major areas of expertise.
"We are developing a world-class organization that will make its mark in Canada and break new ground to create impact in organizations around the world", Marie-Pier St-Hilaire, President and CEO.
Loran - About us
Founded 20 years ago, Loran is comprised of an experienced multidisciplinary team and offers digital and specialized consulting services to IT/business leaders and their teams to help them master their digital transformation. With a research and development (R&D) center, Loran offers its clients the benefit of its advances and discoveries. Thanks to a range of pioneering tools developed by its team, Loran helps organizations, small and large, public, or private, reach technological maturity quickly. Whether through its transformation levers, IT architectural frameworks or innovative approaches, Loran is at the forefront of the digital transformation shift.
Edgenda – About us
As a consulting firm specializing in organizational transformation in the digital era, Edgenda assists Quebec and Canadian companies in the development of strategic competencies and learning experiences as well as the implementation of Agile methodologies and concrete strategies to accelerate the evolution of their business models. Its management team is comprised of Quebec pioneers and leaders in business strategy, change management, emerging technologies, innovation and training solutions. Its mission is to develop a complete human solution that enables companies to effectively compete in the global marketplace. The Edgenda family, including AFI and Apprentx, specialize in learning solutions, experiences and optimization. Edgenda employs 260 change makers, creatives and geeks.
Do you make your edge cut through?
Make your edge cut through, contact us